Though tobacco use has declined dramatically throughout the country in the last two decades, Greater Cincinnati lags behind. Tobacco use is still one of the leading causes of preventable illness, premature death, lost productivity and health care costs in our region.
This is particularly true for people with low income, who use tobacco at much higher rates. By supporting both innovative approaches to reduce disparities in tobacco use as well as changes to tobacco policy that have been proven to work, we can create a healthier community that protects all people from the harms of tobacco.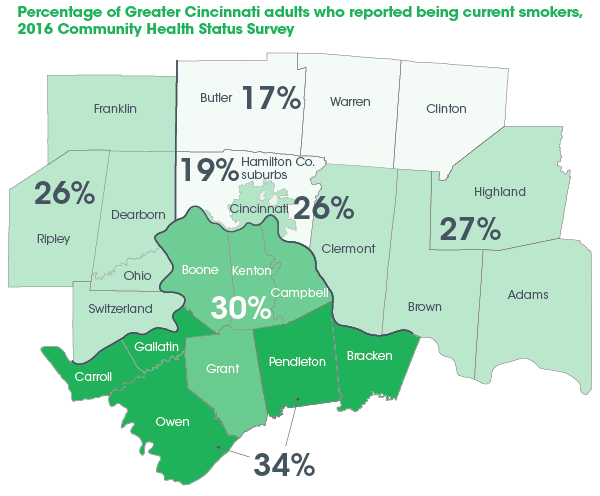 How our community compares
The 2017 Community Health Status Survey found that nearly 1 in 4 adults in our region is a smoker (23%). That compares with 18% of adults nationally. What's more, smoking is much more common among adults with low income. Nearly half of adults in our region who live in households at or below the federal poverty level are smokers (46%). That compares with fewer than 2 in 10 adults with more income (15%).
Who is most harmed by tobacco?
Some groups are more likely than others to use and be affected by tobacco.
Youth and young adults: Tobacco companies particularly target low-income and African-American youth and young adults. A vast majority of cigarette smokers first try smoking by age 18. Many move from occasional to everyday use by age 21. Candy and fruit flavors are used to entice youth to begin smoking. Most young smokers start by using flavored tobacco products, including vaping devices.
People with low income: Exposure to secondhand smoke is never safe. Workplaces not covered by smoke-free policies often employ more youth or people with low income. These include restaurants, bars, places of entertainment and factories.
African Americans, LGBTQ community: The tobacco industry uses menthol products to target African Americans and the LGBTQ community. Menthol's cooling effect on the mouth and throat reduces the harshness of cigarette smoke. Nationally, nearly 9 in 10 African American smokers ages 12 and older (89%) use menthol cigarettes. These products are just as addictive and dangerous as other tobacco products, and menthol cigarettes have been shown to be more difficult to quit than regular cigarettes.
What we can do
Interact supports policies, systems and environmental changes that reduce the illness, premature death, loss of productivity and health care costs associated with tobacco use.
We'll also be studying tobacco use locally to provide a more thorough picture of how it's affecting Greater Cincinnati. A new Tobacco Community Health Survey will provide data that will inform local partners' work and gauge our community's progress toward reducing tobacco use. Look for the first releases of survey data in early 2019.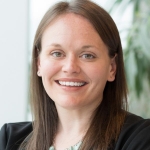 To learn more about our efforts to reduce tobacco use, contact
Megan Folkerth
Program Officer